Sorvall LYNX 4000 Superspeed Centrifuge Sorvall LYNX 4000 Superspeed...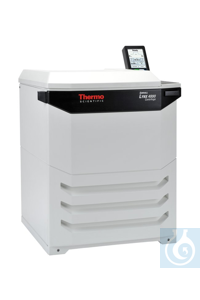 Die Abbildung kann abweichen und Zubehör enthalten, das sich nicht im Lieferumfang dieses Artikels befindet.
Bestell-Nr.: 75006581
31.957,00 €
für 1 Stück zzgl. gesetzl. MwSt. (20%) zzgl. Versandkosten
Sorvall LYNX 4000 Superspeed Centrifuge
Perform high-speed separations simply in shared lab settings with the Thermo Scientific™ Sorvall™ LYNX 4000 superspeed centrifuge with 4L capacity and performance up to 68,905 x g. Advanced rotor innovations including Thermo Scientific™ Auto-Lock™ rotor exchange, Thermo Scientific™ Auto-ID™ instant rotor identification and lightweight and durable Thermo Scientific™ Fiberlite™ carbon fiber rotors that shorten run set-up time and increase rotor security. For real-time run monitoring and control via a smart device, download the Thermo Scientific™ Centri-Vue™ application.
From academic research to bioproduction, support your high performance separations and evolving application needs:
Exceptional performance up to 68,905 x g and up to 4L capacity
Shortened run set-up time and increased rotor security with rotor innovations

Quickly and securely change rotors and applications in as little as 3 seconds with push-button Auto-Lock rotor exchange
Auto-ID instant rotor identification automatically loads rotor specifications into centrifuge parameters

Choose from 16 optional rotors to find the ideal fit for your application, supporting labware from microplates, to microtubes, to 1L bottles:

Lightweight Fiberlite carbon fiber rotors with corrosion- and fatigue-resistance secure the rotor's structural integrity, backed by a 15-year warranty
Swinging bucket rotors for versatility and expanded capacity at high RCF with dozens of adapters for research flexibility
Complete fixed angle rotor portfolio for commonly used 50mL, 50mL conical, 250mL, 500mL and 1L tubes and bottles with specialty rotor options to address specific protocol requirements

Centri-Touch touchscreen interface with bright, highly visible, and durable display simplifies run set-up while providing on-board training and access controls, such as user login with password protection
Download the Centri-Vue application for real-time run monitoring and control of 1 or up to 100 centrifuges from your mobile device
Advanced technology for resource efficiency including energy use options
Compact, non-bolt down design, automatic door opening, and an integrated surface work space optimize everyday centrifuge use
Compliant with global standards and designed to assist with GMP/GLP data management
Fassungsvermögen: 4 x 1000mL
Max. RZB: 68,905 x g
Gekühlt: Yes
Höhe außen (angloamerikanisch): 36.6 in.
Länge außen (angloamerikanisch): 31.7 in.
Geräuschpegel: <59dBA
Breite außen (angloamerikanisch): 27.6 in.
Beschleunigungs-/Bremsprofile: 9 Accel, 10 Decel
Kontinuierlicher Durchflussbetrieb: No
Tiefe (angloamerikanisch): 31.7 in.
Tiefe (metrisch): 805mm
Bezeichnung: Sorvall LYNX 4000 Superspeed Centrifuge
Antriebssystem: High torque brushless motor
Umweltfreundliche Technik: Green Mode
Andere Funktionen: Multilingual Selection, Rotor Calculator, On-Board Training Videos, User Logging, User Lock-Out, Automatic Door Opening, Rotor Speed Handle
Laufzeit: 99 hours, hold
Power: 380–400V, 50/60Hz, 16 A, 3-phase
Garantie: Unit: 1 yr., Drive: 3 yrs., Refrigeration: 5 yrs
Elektrische Anforderungen: 380–400V, 50/60Hz, 16A, 3-phase
Produktlinie: Thermo Scientific Sorvall
Zertifizierungen/Konformität: CE, ROHS, WEEE
Steuerungstyp: Touchscreen Interface
Abmessungen (H/B/T): 36.6 x 27.6 x 31.7 in. (93.0 x 70.0 x 80.5cm)
Typ: Superspeed centrifuge
Program Storage: 120 programs with alpha-numeric naming
Standards: IEC 61010-2-020 2nd Ed. or later
Temperaturbereich: -10° to +40°C
mehr
(-) Technische Daten:
Länge:
805 mm
Maximale Drehzahl:
24 min-1
Breite:
700 mm
Höhe:
930 mm
Artikel-Nr:

75006581

Warengruppe:

Standzentrifugen

Gültigkeit:

31.12.2020

Letztes Update:

31.12.2019