Nalgene™ Settlometer Kit ob Settlometer Case of 4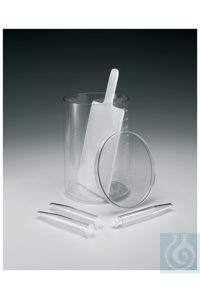 Die Abbildung kann abweichen und Zubehör enthalten, das sich nicht im Lieferumfang dieses Artikels befindet.
Bestell-Nr.: 108710101
123,25 €
für 1 Stück (Mindestabnahme: 4 Stück) zzgl. gesetzl. MwSt. (20%) zzgl. Versandkosten
Nalgene™ Settlometer Kit
Analyze the activated sludge process using the Thermo Scientific™ Nalgene™ Settlometer Kit. An all-plastic tool for waste water treatment plant operators, this kit is a cost-effective alternative to glass equivalents. Settlometer and centrifuge tests for sludge quality are used in analyzing the activated sludge process. The 2L jar is lightweight, transparent, highly impact-resistant and has easy to read white graduations. The paddle permits agitation without scratching jar. Tubes fit tabletop centrifuges up to 6000 x g without cushions or adapters.
Features:
2L jar is lightweight, transparent, and impact-resistant with easy-to-read white graduations
Paddle permits agitation of sample without scratching jar
Centrifuge tubes feature molded-in graduations and friction-fit closures
For tabletop (clinical) centrifuges; shatterproof tubes will withstand forces up to 6000 × g without cushions or adapters, eliminating risk of broken glass
Ordering Information:
Approximate jar dimensions: O.D. × H: 3.3 × 7.5″ (13.2 × 19.1cm)
Tube dimensions, O.D. × H: 0.68 × 25.6″ (1.7 × 11.9cm)
Replacement jar and lid available, order Cat. No. 711010-9507
Includes:
Polycarbonate jar and cover
Polypropylene paddle
Ten 0.5 oz. (15mL) polycarbonate conical centrifuge tubes with friction-fit polypropylene closures
Instruction booklet
Data sheet
Limited warranty period: Subject to all warranty requirements and exclusions set out in our Terms and Conditions of Sale, this product is warranted from the date we ship the product and for ninety (90) days thereafter.
Disclaimer to internal research use restriction: Any restrictions on the purchaser to utilize the product(s) for internal research purposes only does not apply to the product(s) on the web pages associated with this statement.
Custom Group: Environmental Apparatus
LeadTargetGroup: xx_ELMS
Produktgröße: Case of 4
Search Display: Family
Umbrella Brand: Thermo Scientific™
Bezeichnung: ob Settlometer
Höhe (angloamerikanisch): 7,5 Zoll
Höhe Röhrchen (angloamerikanisch): 4.7 in.
Höhe Schlauch (metrisch): 119mm
Verschlussmaterial: Polypropylen
Außendurchmesser (angloamerikanisch): 5.2 in.
Außendurchmesser Röhrchen (angloamerikanisch): 0,6 Zoll
Außendurchmesser Röhrchen (metrisch): 17mm
Artikelbeschreibung: ob Settlometer
Zertifizierungen/Konformität: Kit has been evaluated by the National Training and Operational Technology Center (NTOTC) of the U.S. EPA and has been determined to yield results equivalent to the equipment NTOTC has used in the past.
Anz. pro Packung: 1
Anz. pro Karton: 4
Typ: Settlometer
Custom Group: Environmental Apparatus
LeadTargetGroup: xx_ELMS
Product Size: Case of 4
Search Display: Family
Umbrella Brand: Thermo Scientific™
Description: Settlometer Kit
Height (English): 7.5 in.
Height (English) Tube: 4.7 in.
Height (Metric): 191mm
Height (Metric) Tube: 119mm
Closure Material: Polypropylene
Diameter (English) Outer: 5.2 in.
Diameter (English) Outer Tube: 0.6 in.
Diameter (Metric) Outer: 133mm
Diameter (Metric) Outer Tube: 17mm
Item Description: Settlometer Kit
Material: Polycarbonate 
Certifications/Compliance: Kit has been evaluated by the National Training and Operational Technology Center (NTOTC) of the U.S. EPA and has been determined to yield results equivalent to the equipment NTOTC has used in the past.
No. per Pack: 1
No. per Case: 4
Type: Settlometer
mehr
(-) Exportrelevante Daten:
Verpackungsvolumen:
0,054 m³
Artikel-Nr:

1010-0507

Katalog-Nr:

108710101

Warengruppe:

Filmaufziehgeräte

Packung:

4 Stück

Gültigkeit:

31.12.2019

Letztes Update:

17.01.2019